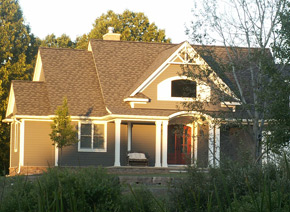 Sustainable Building
Archaic building practices, rising energy costs, and plain common sense have combined to spurn the advent of green/sustainable building practices. Although the need for this building protocol was identified in the 1970's, the construction industry was slow to embrace it. Today, the residential building industry has evolved to recognize not only the need to design and build the home as a system, but also the wisdom of doing so utilizing green/sustainable products and processes.
New Design has long been purveyors of this train of thought. We strive to stay informed of the new technology and products that are available. Some of the tried and true systems and products we have provided our customers are outlined below.
Advanced Framing
The basic intent with this process is to eliminate waste (mostly lumber that is not essential to the structural integrity) and replace it with insulation. Simple 2-stud corners, 24" on center framing, headers enhanced with foam insulation, and the use of approved hardware to carry loads are some of the ways implemented to help minimize waste and improve energy efficiciency.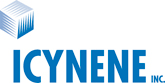 Foam Insulation
The advantages of these products, in our opinion, far outweigh their cost. A favorite of ours is the "Icynene" system. We check back with our customers one year after construction is completed to inquire about the utility bills incurred through the seasons. That feedback has confirmed for us that foam insulation is an integral component of our sustainable building process. We recommend its use in all our projects, large and small. Visit www.icynene.com for more information on the many advantages of foam.
Heating and Cooling
Whether heating/cooling systems are forced air, boiler, or high velocity delivery, the key is to use equipment with the features that will produce the desired effect—even heating and cooling of the home and low utility costs. Efficiently designed and installed ductwork is just as important as the equipment selection. Pre-design and pre-construction meetings of the trades involved in this process are a necessity. We discuss all the options available with our customers so that information can be integrated with their budget to formulate the most efficient plan possible.
The majority of existing homes that are undergo a remodel or addition have forced air systems. Depending on the scope of work, an extension of the existing duct system may be all that is required. Often times we encounter duct systems so convoluted that they are a model of inefficiency. Sometimes reconfiguration of that ducting can improve efficiency. Generally speaking, most furnaces in older homes are over-sized for the space they are heating. We provide a thorough evaluation of existing systems to formulate our retro-fit suggestions.
New homes offer much more flexibility in choosing appropriate heating/cooling systems. Floor plan, ceiling heights, overhang widths, building orientation, the building site itself, and a myriad of other factors are considered in making selections. Your building site may be conducive to a geo-thermal system installation which yields very desirable annual utility costs. Currently the government is offering a 30% cost tax credit for implementation of these systems. There are tax credits available for many high-efficiency heating/cooling systems. Your floor plan may be conducive to an "in-floor system" utilizing a high-efficiency Lochinvar boiler, or a hybrid high velocity delivery system.
Whatever system is selected, you can be assured that all the necessary criteria, including your budget, have been discussed and examined in making your choices.
High Recovery Ventilators (HRV)
The use of products such as foam insulation,and the use of caulk and other sealant methods to seal virtually every possible source of air leakage in the building frame require that a method of air circulation be employed. The heat recovery ventilator is the most efficient way to accomplish that.This unit utilizes the heat from outgoing stale air to warm the incoming fresh air and cycles to ensure a constant source of fresh air in your home.
Tankless Water Heaters

We install Rinnai in line water heaters that provide instant hot water on demand for as long as you need it. Not until the tank runs out. When there is no demand for water the unit shuts down.These heaters also provide savings of up to 40% when compared to a tank water heater Another advantage is their longevity .They last at least twice as long as a tank heater.
Finish Materials

There are a multitude of products that are manufactured in a manner that helps reduce our carbon footprint, makes use of renewable/reclaimed materials, and provide a healthier living space for us as they are made with non-toxic materials with extremely low or zero "off gas" emittance that can be harmful. Some that we have suggested and provided to our customers that you may consider:
Low VOC adhesives and paint
Carpeting with low toxicity (made from bio-degradable/renewable resources)
Ceramic tile (made from recycled glass)
Plumbing fixtures (water savers that do not sacrifice function for water volume)
Bamboo and Cork flooring
Imitation Slate roofing (made from re-cycled materials)
Energy Star rated appliances and light fixtures.
Most everyone can understand and embrace the dollars and cents benefits of utilizing many of the energy efficient systems and products listed here. Common sense dictates that we examine what is happening to our environment and take effective measures to ensure a safe and healthy planet for the generations that will follow us. Green/Sustainable Buiding practices are an important part of the evolving "Green" movement that is helping to make that a reality.