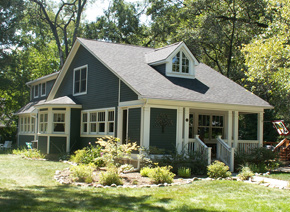 About New Design Building Co.
At our inception in 1986, New Design immediately focused on developing expertise in the field of residential additions and remodeling. It was a natural extension and application of the knowledge and skills acquired by the owner, Gary Branston, as a carpentry subcontractor over a seven year span, and before that as an apprentice and journeyman carpenter. Gary supplemented his working knowledge gained on the job site with architectural drawing and construction materials classes in the Architectural curriculum at Henry Ford College in Dearborn, MI.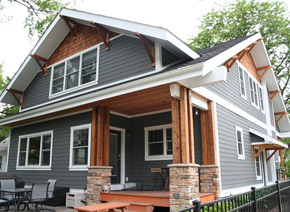 For his building team, Gary sought and retained tradesmen who shared his commitment to providing quality building services and products. The custom homes and additions we build today are assembled by bona fide, conscientious craftsmen. Gary employs, and enjoys, a "hands-on" approach to our projects. From design through completion, his role as the liaison between the customer and the various suppliers and trades involved ensures that job specifications are interpreted and implemented accurately, and that the construction schedule proceeds without delays. Decades of experience on hundreds of homes has enabled us to establish an organized, efficient building process. Our focus has always been on How it is built—not how many.
As the construction industry has evolved, and the need for sustainable building materials and practices has finally come to the forefront, we can say with pride that we have long been purveyors of that credo. The working knowledge that New Design brings to bear on our construction and remodeling projects today was forged by listening to our customer's needs, providing insight and information about the multitude of products available, dealing openly and honestly with the customer in developing project specifications without "grey areas," and, simply, delivering what we promise—quality. There is no substitute for that.
Testimonials
Thanks for all your efforts these months. The place looks great. I am very pleased with the work product and work ethic of all involved. I am happy to provide you with references for future work. Grateful to you!

Carole Empey

Gary, Lisa and I want to thank you for another job well done for us. Your insight and guidance, and your crew was great, as we have come to expect.

Nick Chuey

We recently completed the final phase of a construction project that included a 2 and ½ story waterfront home and a detached garage / greenhouse. The experience was exciting, challenging at times and in the end extremely rewarding.

The two best decisions we made, were to have the house designed by an Architect and choosing New Design Building Company as our builder.

Gary Branston and his associated sub-contractors did an excellent job of executing our plans. He handled the complexities of helical piers and a grade beam foundation necessitated by our waterfront site as though they were an everyday experience.

All of the contractors were professional, easy and pleasant to work with and took great pride in doing their work.

If we were to ever embark on another project in the future, my first call would be to Gary to get him on board.

I would definitely say that our new home has exceeded our expectations.

Jim Reverski
Harrison Township, MI

Thanks Gary—Everything turned out great!

Gary and Linda Nimmerguth
Awards and Certifications
Gold Award

— Qualified Remodeler 2009 Master Design Awards (Whole House $200,000-$500,000)
Energy Star—5 star plus confirmed rating

EPA—Certified Renovator

United States Green Building Council—member

Builders and Remodelers Association of Greater Ann Arbor